---
Trask, Clara Augusta Jones.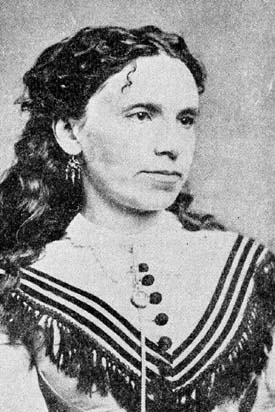 CLARA AUGUSTA JONES TRASK (1839-1905)
Her cheek was red, her eye was kind,
Her tresses hung down loose behind.
DENNIS MACNAMARA, The Adventures of a
Luckess Fellow, Part III, 1, 5-6
Clara Augusta Jones, a once popular writer with several hundred titles to her credit, was the only daughter of Jeremiah Jones (died 1871) and his wife Tamson Roberts, both of whom were born in Farmington, New Hampshire, and married in 1827. Clara Augusta, or Augusta, as she was usually called by her friends, was born in Farmington June 22, 1839. As a young woman she had educated two young people, a brother and sister. The former, Elbridge S. Trask,(1) when he grew up assisted in the farm work and, although many years younger than she, married her in 1878. For several years Trask was in the shoe business in Farmington but about 1887 he and Mrs. Trask removed to Framingham, Massachusetts, where they bought a farm but lived in one of the old historic mansions of the town. Here they remained until Mrs. Trask died January 2, 1905.(2) Her body was temporarily placed in the receiving vault at Edgell Grove Cemetery, in Framingham, but later was transferred to the family lot in Farmington, New Hampshire. The Trasks had no children.
Mrs. Trask was an active club woman, and was a member of the Daughters of the American Revolution, the Framingham Woman's Club, the J. G. Foster W. R. C., the Grange, the Club of New Hampshire's Daughters, the New England Woman's Press Association, and the Patrons of Husbandry.
Clara Augusta's period of writing extended for at least fifty years, from 1853, when as a child she published a poem in Gleason's Pictorial, until shortly before her death. Most of her love stories appeared in various magazines under the name "Clara Augusta," but others were signed "Hero Strong" and "Kate Thorn."(3) Some of her books were of a humorous nature, as, for example, "The Adventures of a Bashful Bachelor."
She contributed poems, sketches, and serials to Gleason's and Ballou's Literary Companion, Monthly, and Pictorial in the 1850's, to Peterson's Magazine, the Dollar Newspaper (Philadelphia), Graham's Illustrated Magazine, Arthur's Home Magazine, Lady's Friend, The New York Weekly(4) The Hearthstone, The Granite Monthly, Saturday Night, Golden Days, Leslie's Monthly, Saturday Journal, Banner Weekly, Our Boys and Girls, and many others. She also had in the New York Weekly, in the early 1870's, a weekly column called "Pleasant Paragraphs," which was much like the "Line o' Type or Two" of the Chicago Tribune in being made up of contributions by numerous correspondents. "Aunt Keziah's War Trouble," published in paper covers by Frederick Gleason of Boston, in 1867, contains her portrait.
REFERENCES: D. H. Hurd, History of Rockingham and Strafford Counties, New Hampshire, Philadelphia, 1882, 639; anon. (Adelaide C. Waldron), Souvenir of Farmington, New Hampshire, Farmington, 1904, 60; New Hampshire Women, with portrait; The People's Home Journal, April, 1904, shows a picture of "Hero Strong," and the issue for January, 1907, shows the same picture with the legend, "Clara Augusta," and a note to the effect that "Readers may be surprised to learn that 'Clara Augusta' and 'Hero Strong' are one and the same, both being pen names of Mrs. Clara Augusta Trask"; Lineage Book, D. A. R., 1898, 323; undated clippings from a Framingham, Mass., paper and from the Rochester Courier; letters from Elbridge S. Trask and several others to Hermon Pitcher; letters to me from Mrs. Hattie E. Brown, Registrar of the Framingham Chapter, D. A. R., January 20, 1943, and from John M. Merriam, of Boston, March 16, 1943; Certificate of Death from William S. Walsh, Town Clerk, Framingham, Mass. †See also Ralph Adimari, 'Clara Augusta Jones.' Dime Novel Round-Up, XXV, No. 297, June 15, 1897, 47-48 (wrongly paged 5-6).
Dime Novels. No. 23, 524
Waverley Library (quarto). No. 35
Waverley Library (octavo). No. 23
† Correction made as per Volume 3.
---
Notes
| | |
| --- | --- |
| 1 | Her husband was Elbridge S. Trask, and not Spencer Trask, as asserted in several publications. |
| 2 | The date above appears in the certificate of death. It is erroneously given in numerous publications. |
| 3 | J. E. Haynes, Pseudonyms of Authors, asserts that her true name was Winifred Winthrop. This is an error, for Winifred Winthrop was simply the title of one of "Clara Augusta's" tales. |
| 4 | The New York Weekly, XXIII, April 9, 1868, announced that "Clara Augusta . . . has been engaged to write exclusively for ... the New York Weekly." |
Go BACK to where you came from