---
Lewis, "Leon".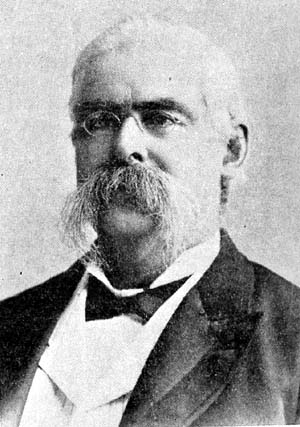 JULIUS WARREN ("LEON") LEWIS (1833-1920)
Allen zu gefallen ist unmoglich.
Inscription in the gable of the
old Schifferhaus in Lubeck
Julius Warren Lewis, better known as "Leon" Lewis, was born in Southington, Connecticut, April 8, 1833, the second son but fourth child of James Dana Lewis and his wife Patty Bishop. His brothers and sisters were James B. (1825-1869), Sarah Ann (Mrs. Charles W. Risley, 1827-1921), Mary Ann (Mrs. George Bronson, 1830-1898), and John Woodruff ("Juan," 1835-1919).
"Leon's" schooling was limited to a few winter months while doing chores for his board and clothes on the farm of his uncle Gideon Dunham, the husband of James Dana Lewis' sister Mary. He was, however, of a literary turn of mind, and began writing at the age of 18.(†1) He was also romantic, for about this time he read an article in a Sabbath School Journal, written and signed by "Harriet Newell" which impressed him and led to a correspondence with the writer, Harriet Newell O'Brien (1841-1878), of Penn Yan, New York. Afterwards they met, were married in 1856 when she was 15 and he was 23, and thereafter lived in Penn Yan.
Then began a literary collaboration which lasted during Harriet's entire life. While each wrote independent stories, many were written in collaboration, and even some of those signed with Leon's name were written by Harriet. In a letter to Robert Bonner, she wrote:(2)
No person, man or woman, has any hand in writing Mr. Lewis' stories save myself. And no one assists me for I love to write better than to do anything else in the world.
It is my custom upon finishing an English story to write one of Mr. Lewis' stories of adventure. It was in that way I wrote The Boy Whaler, Eddy's Search, Mark Heber's Luck, and others. The change of subject is a pleasure and relief to me. . . . Mr. Lewis is also hard at work.
And Leon himself wrote to Bonner:(3)
I find that I cannot do justice to a story in which Mrs. Lewis has had no hand (especially in view of the fact that we have a dozen around us in the production of which she has taken part.)
The early stories have not been identified, and it is not known whether Lewis at first wrote under his own name or under a pseudonym. If we are to believe Gushing,(4) "F. Clinton Barrington" was a pseudonym of Julius Warren Lewis. "Barrington" was writing for Ballou's Pictorial in 1851, the year Lewis began, so it is possible, but the portrait published in that periodical in the issue of January 3, 1852 (See below, under the name A. G. Piper), is hardly that of a youngster of 18. It is possible, of course, that Gushing is mistaken in assigning the pseudonym to Lewis, or that the "portrait" is only a fancy sketch. Perhaps the mistake occurred because Mrs. Leon Lewis wrote under the name "Mrs. Grace D. Harrington."
† Excluding some short stories under his own name, the first novelette definitely identified as by Lewis is "The Web of Fate" with the by-line "Capt. Wheeler, U.S.N." This was a serial begun in the New York Ledger April 26, 1862. Then came "The Reef Spider" as a serial in the Ledger, beginning in the issue for August 9, 1862, and written under the pen name "Illion Constellano." This was followed by "The Turtle Hunter" in July, 1862, with the Wheeler by-line. The date of publication for this has not been found, but the receipt to Bonner for payment is signed "W. T. Wheeler," as was also that for payment for the preceding story, although when published that had the Constellano by-line. Next came "The Pearl Diver" with the pen name "Illion Constellano." It was begun as a serial in the Ledger, November I, 1862. See also "Captain Wheeler."
During the Civil War Lewis served under General Banks, but while on a furlough to take examinations for a higher rating he found his wife in such poor health that he resigned from the service.
In 1864, Lewis was still writing under the pen name "Illion Constellano," and under that name in the New York Ledger for October I, 1864, appeared the first installment of "The Diamond Seeker." Beginning in that year, and continuing for four years, he changed from the Ledger to the New York Weekly. His first story for the Weekly, "The Silver Ship; or, The Bloodhound of the Caribbean," was written under the pen name "Louis Leon." In the blurb announcing it, the Weekly said:(5)
We have succeeded, at great expense, in securing the services of one of the greatest of living romance writers, who, for reasons of his own, chooses to write for us, not under his own proper name, but under the nom de plume of LOUIS LEON.
The fame of this gentleman is world-wide, and it is safe to say that there is hardly a reader of romance on this continent who has not, at one time or another, been charmed by his genius. As a writer of romance, it is not too much to say that he stands without a superior on either side of the Atlantic.
Lewis must, therefore, have been very active in writing during the preceding years, although not many stories have been identified. In the announcement of "The Water Wolf"(6) the author was announced as "Leon Lewis (Louis Leon)", the two names being thus definitely tied together.(†7)
But "Illion Constellano" as well as "Louis Leon" was advertised as an exclusive writer for the New York Weekly. Said the issues for September 22, and October 6, 1864, with considerable straining of facts:
Sr. D. Illion Constellano . . . will hereafter write solely and exclusively for the NEW YORK WEEKLY.
Senor Constellano is a citizen of the Mexican Republic, and is actively employed in the commercial and military service of his country. . . .
Illion Constellano . . . is a Mexican . . . One of our contemporaries has some two or three stories by him written under a previous contract, and after these are published his pen will be exclusively devoted to our journal.
The "contemporary" referred to was evidently Irwin P. Beadle, for in 1864 two of Lewis' stories appeared in the Ten Cent Novels under the name Illion Constellano.
The first contribution of Harriet Lewis to the New York Weekly was apparently a short love story in the issue for October 12, 1865, by "Mrs. Illion C. Constellano." Another story in the issue for December 28, 1865, was by "Mrs. Grace D. Harrington." When "The House of Secrets" was published, September 6, 1866, the author was given as "Mrs. Leon Lewis (Mrs. Grace D. Harrington)" thus tying these two names together. Also in 1866 appeared in Street & Smith's Literary Album "The False Heir; or, The Belle of the Season" by Mrs. Harriet Constellano. The story was reprinted in the New York Weekly, beginning August 26, 1869, as by Mrs. Harriet Lewis, thus tying two more names together.
"Red Knife; or, Kit Carson's Last Trail" appeared in the New York Ledger as a serial beginning April 3, 1869, †under the name of Leon Lewis and not under his earlier pseudonyms. "The Boy Whaler; or, The Young Rovers," begun in the New York Weekly October 21, 1869, was also authored by Leon Lewis although, as mentioned above, it was written by Harriet. She also wrote "The Double Life" for the Ledger under her own name, and it appeared as a serial beginning in the issue for June 26, 1869. Some of the stories which appeared about this time had both names given as authors; for example, "The Flower of Suda" was announced in the Weekly for November 24, 1871 as by "Mr. and Mrs. Leon Lewis," but when the story appeared it was given as by "An Old Contributor."
From 1868 to 1878, hardly an issue of the New York Ledger appeared which did not have stories by both Mr. and Mrs. Lewis, and they were extremely prosperous. Writing to Bonner(8) October 19, 1874, Lewis states that he is worth $150,000 in property and carries $59,000 insurance. Roy Richmond(9) spoke of the grand style in which Lewis lived in Penn Yan, and said that his contracts with the New York Ledger make one "gasp at the enormous prices paid for his stories." At that period of his life, Lewis owned a beautiful home, drove a span of horses and fared sumptuously. Said Benners:(10) "His stable was a show-place of Penn Yan, costing $15,000, which was a vast sum in those days. . . . It has now been fashioned into a convent. The home where the Lewises lived is now used as the rectory of the Catholic Church, and the church has been built at the side."
The ideal literary collaboration between Leon and Harriet Lewis was destined soon to end. Since early in 1874 Harriet had been seriously ill for months at a time and in 1878 she went to Rochester for an operation. She died there May 20, 1878, at the age of 38, but left no children. Her last letter to Bonner, written the day before she died, was published in the Ledger.
After his wife's death Lewis attempted the publication of a weekly entitled The Penn Yan Mystery. Only one number was issued and, while it was well received, apparently it did not come up to Lewis' expectations and he became discouraged before the second issue appeared.(11) His last serial for the Ledger, "A Russian Hero," ended in the issue for April 5, 1879.(12)
Lewis had been writing for the Boys' World, London, since April, 1879, and decided to take up his residence for a time in that city. Some years before, he and Harriet had adopted a daughter (Julia) of Harriet's sister, Helen, and her husband Cyrus Wheelock, a Civil Engineer. When Lewis left for England in 1880 he and Julia (born October 4, 1865) were married. In London Lewis wrote for The London Reader, The Boys' World, and Our Boys' Paper, and here his daughters Harriet (1881) and Leona (1882-1884) were born. Lewis returned to the United States in 1884 and went to live in Greenport, in the town of Southhold, Long Island. Here his sons Leon (1885) and Marion (1886-1886) were born. While in Greenport Lewis wrote one more story for the Ledger, but none thereafter. It began as a serial in the issue for April 26, 1884.
In 1887 the family removed to Dubuque, Iowa, and lived there until 1893. They went to Chicago during that year, and Lewis began to write for the Chicago Times, The Chicago Daily News, and the Chicago Ledger, and at the same time was contributing to Saturday Night (Philadelphia). He was a friend of Clarence Darrow, and after the Haymarket riot he interested himself in behalf of the so-called anarchists. In 1897 he removed to New York City, where he wrote for the New York World; among other stories a serial about the blowing up of the "Maine" and another entitled "Andree at the North Pole." He also wrote for F. M. Lupton. In 1900 he removed to Bakerville, Connecticut. He became interested in glaciology and lectured on "The Great Ice Deluge which is now Due Again," and with his son Leon founded a publishing company in 1905 called the Deluge Company. He also prepared the manuscript of a book on the Ice Deluge, which remains unpublished.
Mr. and Mrs. Lewis were divorced in 1913, and Mrs. Lewis married George Fish, of Athol, Massachusetts. She died about 1933.
During the last years of his life Lewis lived with his sister, Mrs. S. Risley, at Bakerville. He died at the hospital in the neighboring town of Winsted October 28, 1920, at the age of 87.(13)
Besides the stories written for Beadle he wrote, among other novels, "The Silver Ship; or, The Bloodhound of the Caribbean," "The Diamond Seekers of Brazil," "Kit Carson's Last Trail," "Serf Lovers of Siberia," "Young Castaways," "Man of Mystery," "The Young Explorers," "A Boy and Girl's Battle; or, The Captain's Conspiracy," "The White Kangaroo," "The Wild Boy's Pet," "A Tale of Three Kingdoms," "For Life and Fortune," etc.
REFERENCES: New York Weekly, XIX, No. 17, March 17, 1864, 4 (a blurb about the forthcoming "Silver Ship" by Lewis Leon); Woman's Words, I, May, 1878, 216; New York Ledger, May, 1878; Lewisana or The Lewis Letter, a Genealogical Magazine issued for the Lewis family, Eliot, Conn., and later Guilford, Conn., V, September 1894, 46; VI, 31; IX, 175; XII, 99, 186; XIII, 169, 170; XIV, 96; XV, 138 (short notes); Roy Richmond, "Iowa's Contribution to Literature," ]ournalist, XVIII, February 17, 1894, 12; Oscar Fay Adams, A Dictionary of American Authors, Boston, 1905, 229; Ralph Rollington, A Brief History of Boys' Journals, Leicester, 1913; Novel Hunters' Year Book, 1929, 20; City Directories of Dubuque, 1890-1893, and Chicago, 1805-1900; New York Times, May 21, 1878, October 25, 1920; Hartford Courant, October 25, 1920; letters from Mr. and Mrs. Leon Lewis, Jr., to me, 1943.
Banner Weekly. Nos. 199, 208, 226, 238, 250, 261, 279, 297, 331, 536, 603, 720
Dime Library. Nos. 428, 456, 481, 484, 624, 629, 686, 699, 773, 785, 797, 967
Half-Dime Library. Nos. 1021, 1030
Under the name "Illion Constellano" he wrote:
Irwin P. Beadle's Ten Cent Novels. Nos. 4, 6
† Under the name "Captain Wheeler, U.S.A.," he wrote Irwin P. Beadle's Ten Cent Novel No. 5.
† Correction made as per Volume 3.
---
Notes
| | |
| --- | --- |
| 1 | † "Unaldo, a Spanish Legend" was a short story published in The Waverley Magazine, Boston, IV, January 31, 1852, with the by-line Julius Warren Lewis, who at that time was only nineteen years old. |
| 2 | Letters written to Robert Bonner, publisher of the New York Ledger, December 2 and December 8, 1875, and now in my possession. |
| 3 | Letter dated January 24, 1876, also in my possession. |
| 4 | William Cushing, Initials and Pseudonyms, New York, 1886, 30. |
| 5 | The New York Weekly, XIX, No. 17, March 17, 1864, 4. |
| 6 | New York Weekly, XXII, December 20, 1866. |
| 7 | †Another pen name ascribed to Lewis is "Don Jenardo," which is given in W. C. Miller's Dime Novel Authors as belonging to Illion Constellano, whom, however, he regarded as a real person. There seems to be some question about the correctness of this identification. Don Jenardo was given as the author of "The True Story of Billy the Kid," which appeared in Wide Awake Library, No. 451, August 29, 1881, at which time Lewis was living in London and was writing less sensational stories for the English boys' papers. Some recent writers even confuse the matter still more by saddling "Don Jenardo" on Julius (Leon) Lewis' brother, John (Juan) Wodruff Lewis. More proof than Miller's pamphlet is needed for identification. |
| 8 | Letter now in my possession. |
| 9 | Roy Richmond: "Iowa's Contribution to Literature," Journalist, XVIII, February 17, 1894, 12. |
| 10 | William J. Benners, an unpublished manuscript entitled "Mrs. Harriet Lewis." |
| 11 | Lewis C. Aldrich, History of Yules County, New York, Syracuse, 1892, 211. |
| 12 | He wrote to Bonner August 17, 1878, in regard to this story, that he had "had the best assistance of Mrs. Lewis" in its preparation. |
| 13 | New York Times, October 25, 1920, 10; Hartford Courant. same date. The date of his death, October 28, was given to me by J. H. Thompson, editor of the Taring/on Register and by "Leon" Lewis' son, Leon (letter February 21, 1943). |
Go BACK to where you came from